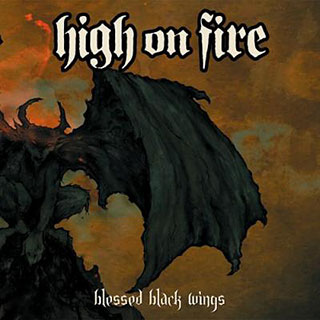 I have a such a soft spot for this album. Actually, for the band. High On Fire have released 3 full length albums since Blessed Black Wings (BBW), but this album is, to me, their defining moment.
Released in 2005, I was still listening to chaotic bands such as Botch, Converge and Coalesce. I think I had just stumbled across stoner rock in the form of Goatsnake and Electric Wizard, already lulled in by the large tone of Les Pauls and SGs bellowing out of huge Marshall stacks (…well, thats what I picture).

A close mate of mine, and huge influence of my music collection, said I needed to check out this band called High On Fire. Apparently it included a member from cult stoner band Sleep and was my source's "Album of the year".
A big call, especially judging by his ability to shoot down anything remotely good, faster than you can say "meh".
I knew there was a bit of buzz around this album from the "who's who" of the music scene - so I was already skeptical.
First track, "Devilution" - sucked me right in. Trance like drums fading in from nothing - solid and unrelenting. It felt like I was in the room with them. Guitar and bass over the top - raw and loud, no effects, just honest distortion. This must be that "wall of noise" I've heard producers talk about. I could hear everything clearly, yet is was a mess of volume and distortion.
Vocals kicked in and I was disorientated. The voice reminded me of someone I knew, but they were pissed off and had a belly full of whiskey. To me, Matt Pike (Guitars, Vocals) had morphed into Lemmy of Motorhead on a whiskey fueled binge of anger and pillaging. I say pillaging, because there seems to be tinge of "medi-evil-ness" rythmn in the drums and riffage. This is not pirate metal, viking metal or any other genre out there crossing "yo ho ho" folk influenced ditties with spandex. This feels like war! And it seems that Motorhead (plus shitloads of Whiskey) have influenced the war cry.
From "The Face of Oblivion" right through to "Sons of Thunder" you're presented with a force of sludgy metal that'll have you fashioning shields and weaponry for battle.
I don't want to pigeon hole these guys into a genre like "Doom" or "Stoner Rock" because they're so much more than that. Sure they might hint at stoner, sludge and metal, but to me they're just talented musicians in a style of their own. I cannot think of anyone who comes close.
I had the pleasure of catching these guy play Sydney on the 28th of September 2012. I had heard the newer albums, although great, they didn't hold the same place as BBW. I was thinking that this was just going to be a recap of the better songs of the last few albums since their last tour. Well, it was, but chucked into the mix was a enough tracks from BBW and even the first 2 releases "The Art of Self Defense" and "Surrounded By Thieves" to keep any fan happy.
I was in my head banging element. Loud guitar annihilating everyone, bursting from 2 Orange heads and 3 Marshall cabs, 2 bass fridges and a drummer so solid, you could set your watch to him. I have never witnessed a 3 piece command so much attention before. Everything was spot on, from the whiskey drowned vocals to the Slayer-esque lead breaks. I witnessed dozens of air guitarists wailing through-out the whole gig. Proof that High On Fire came and conquered.